Zipper's ThunderMax with Auto Tune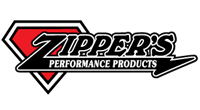 Requires 18mm oxygen sensor bungs in your exhaust

September Savings - Save $50 instantly!

Description
Are you a Rider who wants a tuning product you can Set-and-Forget, or do you want a product that satisfies your inner Tinker-itis? Well, when you choose ThunderMax®, you can be either!
For the Set-and-Forget Rider, order your ThunderMax® from Zipper's pre-programmed for your application, install it and simply go riding. ThunderMax's AutoTune system continuously reads the result of every cylinder fire and fine-tunes the installed base map to your engine's requirements and your riding style – a service other products require a dyno and a skilled operator for. No matter where you ride – hot, cold, sea level or Pike's Peak, you can expect your bike to have smoother, quicker throttle response, increased power and cooler operating temperatures.
For the Rider who likes to change pipes, cams, engine size, add a turbo or supercharger or just about anything else you can imagine, ThunderMax® provides everything needed to facilitate these changes through the included software and features like its AutoMap function, and you don't have to be a rocket scientist to program it or make adjustments!
Aftermarket Product Use
By checking the box and clicking continue below, the individual acknowledges and agrees to the following terms and conditions:
In order for performance components to be listed "for use on a public highway" there is an approval process that needs to be met. This approval process varies based on the component (e.g. the process for a head lamp bulb and an exhaust system is entirely different). If a product manufacturer opts not to obtain approval for use on a public highway, the part is labeled and is intended for "off-road use only".
Performance components that have been approved for use on a public roads are badged on www.fuelmotousa.com with the STREET LEGAL stamp and are U.S. 49-State legal manufacturer declared emissions replacement parts.

Performance components not approved for use on public roads are badged on www.fuelmotousa.com with the OFF-ROAD USE stamp are not legal to use and operate on public roads. Fuel Moto Inc. or www.fuelmotousa.com hold no responsibility either implied or otherwise for mechanical, electrical or other failure when using any aftermarket performance product. Items sold for off-road use only are not legal in many states and provinces and are not intended for use on a public road.

By purchasing any aftermarket performance product, the customer takes full responsibility for any use, and/or misuse of the product and agrees that Fuel Moto Inc or www.fuelmotousa.com holds no responsibility for any consequences, legal, or other, of such use and/or misuse. The use of performance modifications may violate warranties from the manufacturer of the vehicle or from others. Use of this product for purposes other than solely for competition is a violation of federal law and may violate applicable state or local environmental, motor vehicle and other laws.
Our Best Pricing
Manufacturers occasionally suggest that products be advertised at their suggested retail price. Because our price on this item is lower than the manufacturer's "minimum advertised price", the manufacturer does not allow us to show you our price until you place the item in your shopping cart.
Please note that this does not require you to purchase the product. You can easily remove it from your shopping cart if you decide not to buy it. We realize that this is an inconvenience and are regularly working with manufactures on how their policies impact our customers.
Please contact us at 920-423-3309 Mon-Fri between 9-5 CST with any questions or for additional support.
×