117" Big Bore Kit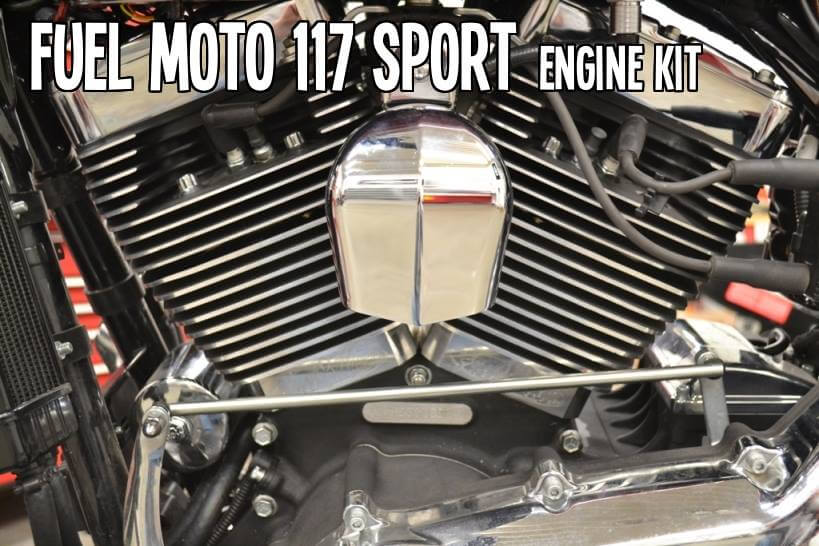 The Fuel Moto 117" Big Bore is a complete kit with the absolutely highest quality components, all of which have been extensively tested in house both on the dyno as well as in real world conditions to deliver top level performance. This is a 130-140Hp pump gas package which requires case boring, true/balance/welded crankshaft, as well as other peripherals such as throttle body, injectors, exhaust, and appropriate EFI tuning device. We are also offering various options including gear drive cams & Timken conversion.
$2995 - Order your 117" Big Bore Kit now!
---
The Fuel Moto 117" kit includes the following:
4.125 Fuel Moto IC extreme duty cylinders
FM/CP custom pistons 11.0:1 compression
FM CNC ported cylinder head service
Wood TW8-6 cams
Wood Directional lifters
FM adjustable pushrods
complete premium gasket kit
Retail Price: $2995.00 Complete kit
Professional Installation: $4995.00* at our location including the complete kit, lower end service, break in & dyno tune on our state of the art dyno. (*does not include EFI tuning device, exhaust system, throttle body, or other associated parts such as oil & filter)
---
Additional Packages
Fuel Moto also offers package deals for the 117" kit bundled along with tuning components, exhaust systems, and air cleaners. We also offer the Fuel Moto 117" Piston / Cylinder kit. This kit is available in various compression ranges.
The Fuel Moto 117" Piston / Cylinder kit includes the following:
IC Cylinders
CP Carillo Pistons
Rings
Head/base gaskets
Retail Price $1199
---
Dyno Charts