Fuel Moto Short Blocks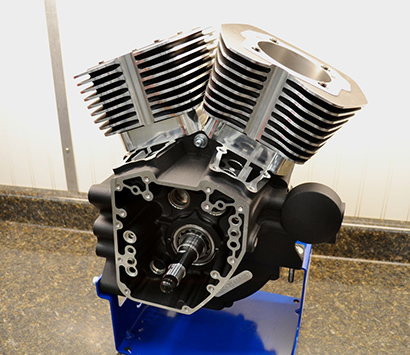 Fuel Moto Short Blocks are the ultimate foundation for your powerhouse. Genuine H-D Screamin' Eagle engine cases with Timken bearing conversion and bored for big bore cylinder spigots, S&S crankshaft (4.625" or 4.375" stroke), your choice of 3.937", 4.060", or 4.125" Fuel Moto extreme duty IC cylinders & custom CP/Carrillo pistons for your application. Pistons available for standard H-D heads, H-D 110/MVA heads, S&S Superstock heads. Add your cylinder head assemblies, cam chest & associated components.
Genuine Harley Davidson SE engine cases with Timken conversion & includes MSO
Timken conversion, cases bored, piston jets & cam bearings installed
S&S 3 piece crankshaft, 4140 steel, heavy duty connecting rods
Fuel Moto IC extreme duty cylinders, precision bored; CP/Carillo Forged pistons (custom for your application) 113", 117", 120" or 124"
Standard cylinder & engine height
Short Block comes assembled and ready to add your components
Compatible with Air Cooled 'A' motors with Black cases
$3795 -
Order your Fuel Moto Short Block now!
---
Additional Images
---
Emissions Notice
Fuel Moto Short Blocks are specifically designed and designated as/for "Competition and Racing Vehicles Only". Any/All model application pictures shown are for reference only and solely intended for Competition and Racing Vehicles only and must not be used at any time on a public road/highway.