Fuel Moto
»
Rinehart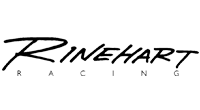 ---
Rinehart Categories
---
More About
Rinehart
TRUST THE NAME. TRUST THE PIPE. LEGENDARY REPUTATION OF PROVEN PERFORMANCE®
A passion for performance, a commitment to quality, and a desire to reinvent the ride of a motorcycle: we are Rinehart Racing.

Innovations in performance exhaust, including proprietary anti-reversion technology, advancements in baffle configuration, and our continued enhancements in stepped header design make Rinehart Racing® performance exhausts cutting-edge and the undisputed leader in the aftermarket performance exhaust industry.

NASCAR® teams, INDYCAR® teams and everyday motorcycle riders around the world have trusted the name and the pipe both on and off the track. Today, the name Rinehart carries a legendary and unrivaled reputation of proven performance and is known for a standard of craftsmanship and quality that rises above all others.

Most of our employees are riders, just like you. They understand the expectation of quality and performance, because they demand it for themselves. From tube vending to welding, machining and forming, each of our employees takes great pride in manufacturing our products in Asheville, North Carolina, and everything we do—from the first sketches and concepts fabrication, to the hand polish and plating—takes place here in the USA.