S&S Cycle Harley-Davidson Camshafts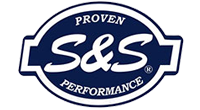 Pushrods & Kit
- All gaskets required for installation
- All o-rings required for installation
- Fuel Moto Adjustable Pushrods
Pushrods, Lifters & Kit
- All components in the Pushrods & Kit
- S&S Premium Lifters

Description
Chain Drive Camshafts
Experience has shown that the new chain drive with hydraulic chain tensioners works well for all but the most demanding high performance applications. That's why S&S now offers their most popular grinds for big twins in a chain drive version. The most obvious advantage to a chain drive cam set over our popular gear drive cams is the expense. When you replace the stock cams with an S&S chain drive cam set, all you are replacing are the cams. You re-use the stock cam drive components so you save money on parts. Saving money has always been a good idea, but never more so than it is today.
Many riders are leery of the stock chain cam drive in late model big twins. While it is true that the early version introduced in 1999 was often not well suited to high performance applications, the later version introduced in the 2006 Harley-Davidson® Dyna® model, and later incorporated in all big twins in the 2007 model year, was vastly improved.
Easy Start Camshafts
Regardless of displacement or compression ratio with a stock starter, Easy Start Cams from S&S® Cycle make hard starting obsolete for big twins. Available in chain drive and gear drive versions. Don't get caught "dead" without them! More Proven Performance® from S&S Cycle, Inc., the leader in V-Twin high performance parts since 1958.
Start any engine with a stock starter
Save your starter and battery!
Reliable – tested for 10,000 starts and didn't even run the battery down!Automatic – no buttons to push
Gear Drive Camshafts
Gear driven camshafts typically have a higher initial expense as in addition to the camshafts themselves gears and installation kits are required. As gear driven camshafts require almost perfect crank run out typically their installation also requires bottom end servicing. Gear driven camshafts also require greater valve timing accuracy due to the precision required for their use. With this said, if initial cost and valve train noise are not part of your decision process, gear driven camshafts do offer the highest level of reliability and are often utilized in higher displacement engines for this very reason.
Camshaft Install Kits
When purchasing camshafts they do not typically include all the parts required for installation. Like all the products we carry, we test first test them in house to find the ultimate combination of parts to provide the reliability you would expect along with the best possible pricing. We have put together two Install Packages for you to choose from when selecting your camshafts and you can select the best kit to fit your needs.
Basic Install Kit
All gaskets required for installation.
All o-rings required for installation.
Fuel Moto Adjustable Pushrods
Complete Install Kit
All the same items as the Basic Install Kit with the addition of:
S&S Premium Series Lifters
Our Best Pricing
Manufacturers occasionally suggest that products be advertised at their suggested retail price. Because our price on this item is lower than the manufacturer's "minimum advertised price", the manufacturer does not allow us to show you our price until you place the item in your shopping cart.
Please note that this does not require you to purchase the product. You can easily remove it from your shopping cart if you decide not to buy it. We realize that this is an inconvenience and are regularly working with manufactures on how their policies impact our customers.
Please contact us at 920-423-3309 Mon-Fri between 9-5 CST with any questions or for additional support.
×