Dynojet Power Commander III USB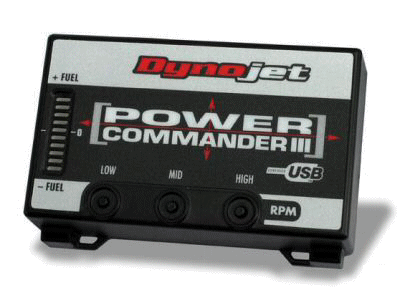 FUEL MOTO is the #1 Power Commander dealer in the USA! Fuel Moto offers the best prices in the USA on Dynojet Power Commanders with unbeatable service. We have the largest dealer inventory of Power Commanders in the USA, when you order from Fuel Moto our Power Commanders are IN STOCK for immediate shipping
---
Why purchase a Dynojet Power Commander from Fuel Moto?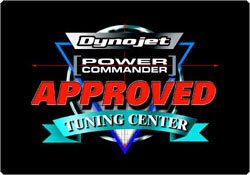 We are the EFI performance and Dyno tuning specialists and we will pre-program your Power Commander to your bikes specs from the USA's largest map database. Fuel Moto doubles the warranty on the Power Commander and also provides awesome in-house Dynojet certified tech support. Contact us now on what the Power Commander will do for your bike and individual set up.
Dynojet tuning products are our main business. We offer the best service in the industry, we tune motorcycles all day, every day. We are highly commited to Dynojet products are are the #1 dealer of Dynojet products on the planet. We sell, install and tune more Power Commanders than anyone, anywhere. When you contact Fuel Moto you will be working directly with the EFI Tuning Professionals. Our certified Dynojet tech's will take the time to answer any technical, installation or pricing questions you may have on any Dynojet product we carry anytime, before or after the sale. Give us a call at 920-423-3309 Fuel Moto even purchases various new motorcycles to use exclusively for the testing and development of our Power Commander maps. This in-house development allows us to offer our customers unmatched product support with our database of Power Commander maps and technical information.
When you purchase a Power Commander from Fuel Moto you purchase more than just a Power Commander. Our professional staff is here to make your bike run at its best. You will be receiving a custom tuned fuel injection module that comes to you pre-programmed for your personal bike based on the information you provide. We are not simply loading a map, we are programming the Power Commander with maps and information that has been developed for the intake and exhaust changes you have made to your bike using our experience and expertise from 15+ years of dyno tuning.
We live, breath and race motorcycles and have a true passion for tuning.

At Fuel Moto we pride ourselves as being at the very top of the motorcycle EFI tuning trade and we even have developed several proprietary components and applications for our Dynojet 250i dyno which allow us to have the most consistent, most accurate and best performing EFI maps available. We have the largest map database in the country and we continually develop new maps in-house. Our expertise and maps have become well known across the country. We live, breath and race motorcycles and have a true passion for tuning. With our Power Commanders we offer a complete tuning package, from the Power Commander unit, to the programming, to the certified Dynojet tech support. There are several features you can add to your Power Commander for no additional cost. We can download and set up the Accelerator pump feature which increases throttle response and off idle abruptness. We can also take into consideration your riding style or special concerns such as fuel mileage.
Additionally, on Harley models we can raise the factory rev limiter to 6200 RPM's the Power Commander's Rev Xtend feature. What this means is when you receive your Power Commander it will come to you "plug and play" so you are ready to install and ride. Feel free to contact us for details how the Power Commander will improve your specific bike. Fuel Moto doubles the warranty on the Power Commander making the warranty period 2 years.
Furthermore, if you purchase a Power Commander from Fuel Moto we offer Map support and will supply you with any different maps you may need as you make future mods to your bike. We also provide in-house certified Dynojet technical support on the Power Commander so if you have any questions or problems along the way on programming or tuning we are just a call away. Dynojet periodically makes changes and upgrades to the Power Commander, our Power Commanders are guaranteed to be the absolute latest version with the latest firmware and upgrades enabled.
If you have technical questions before or after the sale you can contact us at 920-423-3309 or email us at and we will be there to help. Simply put, you will not find better customer service and product support anywhere!
---