Dynojet Power Vision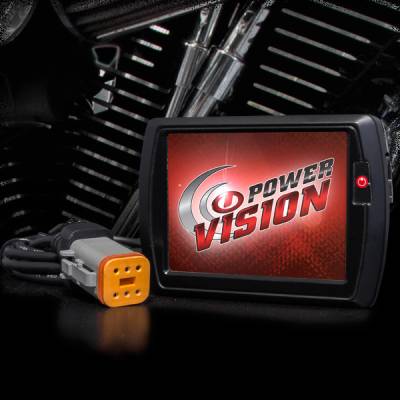 Fuel Moto is proud to introduce the Power Vision by Dynojet, a true evolution in tuning for all 2001-2017 Delphi equipped Harley Davidson motorcycles. The Dynojet Power Vision is not only the fastest ECM flash tuner on the market, it offers the most powerful tuning features. Power Vision features a fully configurable high resolution touch screen that can be either mounted on your bike and used to monitor real time data, or simply used for tuning, logging or storing maps.
Fuel Moto Articulating Handlebar Mount + Power Vision Visor - a $49.90 value!included at no additional cost with every Power Vision!
Get the Powervision for your Harley Today!
Shop for your Power Vision!
Supported Powervision PV-1 H-D Models
2002-2013 Touring
2001-2010 Softail
2004-2011 Dyna
2007-2013 Sportster
2002-2017 V Rod
Supported Powervision PV-2 H-D Models
2014-2017 Touring
2011-2017 Softail
2012-2017 Dyna
2014-2017 Sportster
2015-2017 Street 500/750
Power Vision also includes comprehensive tuning software for your computer including an integrated tuning utility called Auto Tune Basic which uses the stock narrowband sensors, and there is the awesome optional Auto Tune Pro kit which uses the AT-110/AT-120 with dual Bosch Wideband sensors. Auto Tune Basic and Pro allow you to Auto Tune your bike right on the Power Vision display. Fuel Moto will pre-program your Power Vision for your specfic modifications and we offer industry leading product and tuning support for our customers. We have more experience with Power Vision than anyone, anywhere, period.

---

Free Pre-Programmed EFI Map, Double Warranty, and Unlimited Support!

Fuel Moto also has a wide range of Power Vision calibrations we have developed in house available for many applications including the newest models, we will pre-program your Power Vision for your motorcycle and the specific performance modifications you have made. For more info we would welcome your call at 920-423-3309 or email at .

Fuel Moto is a technical partner with Dynojet and we offer unlimited technical support for Power Vision for our customers. Our direct partnership with Dynojet has allowed us to be involved with Power Vision engineering thru all stages of product development as a technical partner and there are so many never before seen features we do not know where to start. We wanted to provide the most comprehensive tuning package available, along with an easy to use package. One of the most unique features is the ability to capture your base calibration and immediately start tuning. With Power Vision you can quickly read the calibration in your ECM, retrieve it, and then edit any table within the calibration as required. You can also choose from the database of pre configured calibrations that are fully updatable thru the update client. There are hundreds of maps developed, and at the moment both Dynojet and Fuel Moto are working on more calibrations every day. The other unique feature is Power Vision's ability to not only flash the ECM without a computer, the powerful PV device allows you to edit many parameters of the tune right with the the device. It puts true tunability at your fingertips. Contact us for more info at 920-423-3309

Fuel Moto also includes our FREE Value Bundle which includes articulating handlebar mount and quick release/visor kit, a $44.95 value FREE!

Video & Images

Power Vision General Walkthrough Video

How to Flash your motorcycle's ECM using the Power Vision

Power Vision unit mounted on bike for real time display. There are literally thousands of display options and combinations, you can choose virtually any ECM channel and display it how you choose. You can put as much or as little data on the screen as you prefer.

Here is the main screen when you plug in the Power Vision

Easily retrieve and clear trouble codes with a description of each of them

Auto Tune

Autotune for Power Vision is a built-in feature inside the device itself that is free of charge. Autotune gives you the capability to perform closed-loop tuning of the Power Vision so you can further enhance your motorcycle's calibration. Power Vision is a ECM flash tuning device, so the adjustments are calculated real-time in the Power Vision, this allows you to review the changes and either accept or ignore them, before flashing the updated tune to the bike's ECM. There are two versions of Autotune for the Power Vision – Basic and Pro.

Autotune Basic: This is included for FREE with the Power Vision. It utilizes the stock narrow-band oxygen sensors that come equipped on the motorcycle*. With a few simple clicks of the Power Vision's touch-screen, you can perform real-time data-logging and calibration to your Power Vision. Works with all 2001-2014 models equipped with factory oxygen sensors.

Autotune Pro: Requires the purchase of the Autotune Pro accessory kit. It includes a control module, two wide-band oxygen sensors, cables, and everything needed for installation.

Target Tune




Dynojet Target Tune is an optional accessory for Power Vision that adds a new dimension to Harley tuning. Target Tune incorporates closed loop fuel control utilizing Bosch wideband O2 sensors into the HD-Delphi ECM. Dynojet has evolved the OEM closed loop parameters and adaptive fuel control within the ECM to meet the needs of performance & tuning enthusiasts alike.








Key Features of Target Tune:

Allows the factory ECM to interpret and use wideband O2 sensor signals*
User defined AFR/Lambda targets over a broad range
Target fuel table from PV calibration is achieved in real time
Retains OEM closed loop, adaptive fuel control strategy
Learns and uses VE table corrections as you ride
Target Tune enhanced Auto Tune app on PV device
Does NOT interfere with dealer diagnostic / service tools
Direct plug in OEM style connectors connect to factory O2 harness
Model specific applications for Harley Davidson closed loop models
Available as upgrade kit without O2 sensors for owners of Auto Tune Pro
Fits 2006 and newer Harley Davidson motorcycles**

* Requires Power Vision Target Tune specific calibration
** ECM must be "closed loop capable" and have OEM wiring for O2 sensor circuitry

Target Tune Installation

Get the Target Tune for your Harley Today!

Find your Target Tune!

Supported Harley Davidson Models
2007-2017 Touring
2007-2017 Softail
2006-2017 Dyna
2007-2017 Sportster
2008-2017 V Rod

WinPV

Power Vision offers more control

If you are an experienced tuner looking for the latest technology. The Power Vision Suite includes a highly flexible tuning / data logging device, as well as a powerful tuning application (WinPV) that's user friendly compared to other products on the market.

Allows you to import Power Commander Maps

1

Tuning parameters laid out in a clear, concise manner utilizing a "tree view structure"
Various math functions can be applied to editable tuning parameters (add/subtract/multiply/divide in cells of a table)
Individual tuning parameters are able to be saved as "value files". The value files can then be applied to other calibrations.
Various math functions can be performed on any value
Basic or Professional user modes, perfect for beginners or experienced tuners.
Synchronized editing of front and rear VE and / or Spark tables
Compare, restore, and undo features
Helpful tuning parameter descriptions
Automatic update client ensures you have the latest tuning application, firmware, and tune file database
Compatible with Windows XP, Vista, and 7

Power Vision Software "tree view" and "value files"

Tuning parameters laid out in a clear, concise manner utilizing a "tree view structure". It displays 6 major tuning areas.

The value file feature gives you the ability to save individual, or multiple parameters of the calibration as a file. For example, let's say you have certain AFR values that you always use, or even spark tables. You can simply save these values once, and then import them into different calibrations in the future. This highly flexible feature saves hours of tuning time.

Downloads

Software
Description
Version
ReadMe File
Last Updated
Download
Power Vision Software 32 Bit Version Windows XP, 7
2.0.26.1548
ReadMe
09/27/2016
Power Vision Software 64 Bit Version Windows XP, 7, 8, 10
2.0.26.1548
ReadMe
09/27/2016
Firmware
Description
Version
ReadMe File
Last Updated
Download
Power Vision Firmware
2.0.25-1548
ReadMe
09/27/2016
Power Vision Tune Database
0.0.9.44
n/a
09/27/2016
Manuals & Documentation
Description
Version
ReadMe File
Last Updated
Download
AutoTune AT-110/AT-120 Install Guide
3.0
n/a
09/24/2015
Autotune for Power Vision Guide
1.0

n/a

10/29/2012
Power Vision Intial Software Setup Guide
1.0

n/a

02/25/2011
Power Vision Quick Start Guide
V98100014.07

n/a

09/23/2015
Quick Tune User Guide
1.0

n/a

10/29/2012
WinPV / Log Tuner Detail User Guide
1.0

n/a

08/23/2011
WinPV / Power Vision User Guide
6.0

n/a

10/29/2012
Diagnostic Connector Location Guide
1.0

n/a

09/27/2012
Fail to Unlock or Flash Procedures
1.0

n/a

04/06/2013
Troubleshooting - ECM Locking or Flashing
1.0

n/a

04/06/2013
Power Vision Dual Tune License Program
1.0

n/a

04/05/2013
Power Vision Unlock License Program
1.0

n/a

04/06/2013
Power Vision Tune License Program
1.0

n/a

04/06/2013