Dynojet Power Vision CX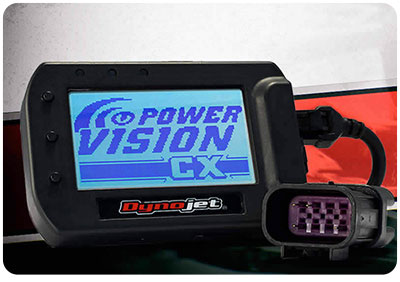 The Power Vision CX is a performance tuner and data monitor for Polaris Off-Road Vehicles, Indian and Victory Motorcycles that offers the latest flash tuning technology, real-time data monitoring, and other industry exclusive features.

The Power Vision CX product Suite includes a handheld flash device, vehicle interface cable, and Power Core (Windows PC based tuning and data logging application).
Get the Power Vision CX today!
Shop Now!
Supported Polaris Models
2011-2014 RZR 800  / S / 4 Models
2011-2014 Ranger 800 / 4 Models
2011-2014 RZR XP900 / S/ 4 Models
2015-2017 RZR 900 / S / 4 Models
2014-2017 XP 1000 / 4 Models
2013-2016 Ranger XP900 Models
2016-2017 General 1000 / 4 Models
2015-2017 XP 1000 Turbo / 4 Models
Supported Indian / Victory Models
2015-2017 Scout Models
2016-2017 Scout Sixty Models
2014-2017 Thunderstroke 111" Models
2017 Octane






General Power Vision CX Features



Flash performance tunes via OEM diagnostic connector, no need to remove and send out ECU
Display vehicle data channels in real-time
Weather resistant for use in all conditions
High contrast display, viewable in direct sunlight
PowerCore C3 software allows full tunability of calibrations
Adjust various Fuel & Spark tables
Remove/adjust limiters such as Rev limit & Speed limiters
Adjust Throttle by Wire limits. No more throttle lag!

General Power Vision CX Specifications

Screen Size:

2.3" x 1.3" (measured in inches)

Dimensions:

3.7" x 2.4" x 0.77" (measured in inches)

Weight:

0.25 lbs

Mount:

30mm x 38mm, M4-0.7

Gives end users complete control of their calibration
Start with the original calibration or modify / edit existing calibrations
Manage and send tune files to the Power Vision CX
Real-Time cell tracing
Monitor and log supported data channels from the ECU
Tune lock option to protect unauthorized sharing

C3 Tuning Software - Adjust all defined tables with live cell tracing, advanced table operations (Horizontal/Vertical/Bilinear Interpolate). Full support for Undo and Redo of all table operations for faster tuning and less time wasted backing up maps.

Configure - Calibrate - Control --> C3 Offers More Control

Cell Trace Replay - Clicking on any point in a log file moves the cell trace cursor exactly where it was during the run. Quickly make adjustments without searching for the right axis values.

Map Compare - Build tunes faster by leveraging previous work. Map Compare is a fully-featured comparison tool that shows the differences between separate tunes or individual tables within the same map (front cylinder vs rear cylinder tables, for example).

Table Math Scripting - Tune faster and smarter than ever before with repeatable, fully customizable tuning scripts. Tune directly from data logs and make rapid full-table adjustments and never worry about cell-by-cell adjustment ever again. Use pre-built Dynojet scripts, or build your own for full control.

Software
Description
Version
Notes
Last Updated
Download
Dynojet Power Core Software
1.10.6309.22302
04/25/2017
Firmware
Description
Version
Notes
Last Updated
Download
Dynojet Power Vision CX Firmware
2.1.6299.16497
04/04/2017
Manuals & Documentation
Description
Version
Notes
Last Updated
Download
Power Vision CX Installation Instructions for Indian Models
V04
03/06/2017
Power Vision CX Installation Instructions for Polaris Models
V03
03/06/2017