Performance Cams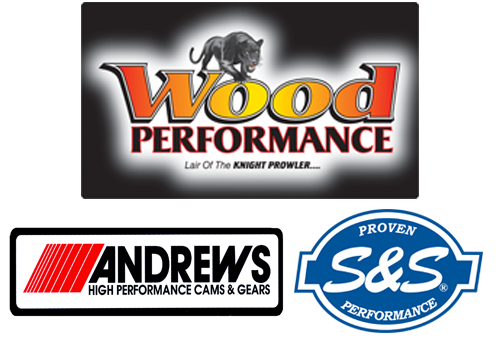 Fuel Moto carries camshafts produced by Wood Performance, S&S Cycle and Andrews Products for Harley-Davidson motorcycles. The Wood Performance camshafts are designed by Bob Wood of NHRA Funny Car fame and are custom manufactured by Andrews Products to exact Wood Performance specifications. The Knight Prowler camshafts feature short duration, high-lift specifications that are a trademark of Bob Wood which yield excellent torque and horsepower gains not matched by other camshafts.
Shop for your Performance Camshafts!
For camshaft recommendations we would welcome your call at (920) 423-3309
Fuel Moto has extensive experience with Wood Performance camshafts. We find these the most versatile cams on the market for late model twin cam engines. They offer increased horsepower and torque from idle to redline on stock or mildly modified motors. These cams truly give you the best of both worlds, stump pulling torque down low along with big midrange and top end horsepower. Fuel Moto also has a wide range of fuel maps that we have developed in house on our dyno with the Wood Performance Knight Prowler cams and we also offer performance proven, complete packages that include the Dynojet Power Vision or Power Commander, exhaust system, Stage 1 air cleaner, and Wood Performance camshafts. Please feel free to contact our technicians at 920-423-3309 for assistance in finding the right camshafts for your needs.

Part#

.053 Timing

Duration .053

Valve Lift

Lift TDC

Springs

Application

TW-222

14/34 34/14

228 228

.555 .555

.156 .156

Stock

Bolt in, early to mid range TORQUE. Designed for factory 96",103", 110" motors. Works especially well in heavier bikes with lower compression.

TW-555

21/41 43/19

242 242

.555 .555

.189 .178

Stock

Bolt in, broad power band for both stock heads or built up engines alike!

TW-777

22/42 44/20

244 244

.575 .575

.200 .187

Stock

Bolt in, broad power band especially with flowed heads or compression increases!

TW-888

23/43
43/23

246 246

.575 .575

.205 .202

Stock

Bolt in, mid range to top end power with increased compression.

TW-999

24/48 48/24

252 252

.590 .590

.222 .215

HI-LIFT

Big Hp/Tq in higher compression applications, power comes on extremely early and stays on late, valvetrain is nice an quiet

TW-999-6A

26/46
46/26

252 252

.575 .575

.230 .225

Stock

Bolt in, broad range power designed for engines with increased compression. Perfect fit for the Fuel Moto 107" big bore kit.

TW-6-6

20/40 42/18

240 240

.510 .510

.191 .173

Stock

Bolt in street/touring. Very strong from idle through 5500 RPM. Light or heavy bike.

TW-7H

20/40 42/18

240 240

.575 .575

.194 .176

Stock

Super High Torque fits 96" thru110" with stock heads

TW-8-6

19/47 49/17

246 246

.590 .590

.183 .176

HI-LIFT

Best Bar Hopping - High performance cam available. Aggressive ramps - High Lift - 96 to 114 cubic inch

TW-9-6

22/50 52/20

252 252

.580 .580

.205 .187

HI LIFT

88 - 120 cu. in.+ Hot Bar Hopper - Bolt-In with S.E. Heads - Loves 3.37 Gear Ratio

TW-9B-6

22/50 52/20

252 252

.630 .630

.208 .191

HI-LIFT

The Real Twin-Cam Boss for 96 thru 124 ci – Minimum 10.5 cr

TW-9F-6

24/52 54/22

256 256

.650 .650

.220 .201

HI-LIFT

HOT-HOT-#1Knight Prowler Street cam 88 -130 cu. In. for the Real Bad Street Bike

TW-400-6

22/42 44/20

244 244

.650 .650

.210 .190

HI-LIFT

Maximum Torque, 2000RPM & Up Bolt-In for SE Ported & 103+ Heads

TW-408-6

24/44 46/22

248 248

.650 .650

.218 .200

HI-LIFT

Hot Rod Cam for 96 thru 124 ci Stock thru 11:1 C/R

TW-408-44

24/44 46/22

248 248

.530 .530

.213 .199

Stock

Hot Rod 07-09 Bolt-In - Stock Heads, Springs, Stock thru 11:1 C/R

TW5-6

17/37 39/16

234 234

.575 .575

.174 .160

Stock

Maximum Low-End Torque – Bolt-In w/Stock Heads

To view the complete Wood Performance catalog, please click here


Camshaft Install Kit »
Dyno Charts »
Cam Install Tips »

(2) Torrington inner Cam bearings
(2) Gasket, Rocker Cover, Metal w/ Bead
(2) Gasket, Breather Assembly, Cover
(2) Gasket, Breather Assembly, Baffle
(2) Gasket, Tappet Cover, Front & Rear
(1) Gasket, Cam Gear Cover
(4) O-Ring, Pushrod Tube, Center
(4) O-Ring, Pushrod Tube to Tappet Block
(5) O-Ring, Pushrod Tube to Cylinder Head
(2) O-Ring, Lower Rocker Cover to Cylinder Head
(1) O-Ring, Oil Pump, Outer
(1) O-Ring, Cam Support Plate
(2) O-Ring, Oil Pump Inner
(2) Seal, Umbrella Valve
(2) Filter Element, Breather Assembly

Complete your cam installation!

Gaskets, O-Rings, and inner bearings required to install your cams.

Dyno Charts

Rushmore (2014-2016) 103HO Twin Cam Models






96ci Twin Cam Models





103ci Twin Cam Models






107ci Twin Cam Models





110ci CVO Twin Cam Models

Don't see the dyno chart you are looking for? Even more are available here:

Cam Install Information

Performing a cam swap in a late model Twin Cam motor is very straight forward. Here is some basic information and pictures from a cam swap on a 2010 Harley Davidson Ultra Limited. Please refer to your service manual for specific instructions for each model

You will start by removing the exhaust system and RH floorboard. Remove cam cover , put the bike on stand, remove the spark plugs, put the bike in 5th gear and rotate the rear wheel until the timing marks on the sprockets line up

If using "Quick Install" style pushrods, carefully remove stock pushrods with bolt cutters

We use clips to hold the lifters in place which will prevent them from dropping in the motor once the cam plate is removed

Remove the cam chain tension shoe, crankshaft sprocket bolt and rear cam sprocket retaining bolt, You can now unbolt the cam support and remove from motor

With the cam support plate now removed from the engine you can now remove the inner cam chain tensioner assembly and swap the old cams with your replacements. Make sure to align the timing marks on the cams

Replace inner cam bearings (if required) and install the cam plate into the engine and align crankshaft and cam sprocket timing marks and torque retaining bolts.

Reinstall outer cam cover and torque in the correct sequence as listed in manual.

Install push rods adjust to the shortest length rocker arm end first. Rotate motor so pushrod is on the base circle and adjust pushrod to zero lash. Adjust pushrod per manufacturers specs and tighten jam nut (generally 2.5-4 turns depending on thread pitch). Wait for lifter to bleed down and repeat for each pushrod. Install pushrod tube covers.

Install exhaust system and floorboard.