Fuel Moto Extreme Duty Cylinders


The Fuel Moto Extreme Duty cylinders are designed for maximum durability and top level performance for Twin Cam engines. They are available with either a heavy duty centrifugally cast Ductile iron sleeve or hi-tensile strength steel liner (drop on kits). Cylinder & piston kits are CNC bored and honed to exact specifications and come ready to install. 100% made in the USA.
Get your Extreme Duty Cylinders Today!
---
The Fuel Moto Extreme Duty cylinders with heavy Ductile iron sleeve are available in a 3.937" bore (107" - 4.375" stroke or 98" - 4.000" stroke) and do not require boring. Also included is a CP/Carrillo complete piston kit with your choice of 10.25 - 11.0:1 compression (custom dome machining available), Cometic MLS .030" head gaskets, and OE H-D base o-rings. More bore sizes coming soon. All complete Fuel Moto 107" & Fuel Moto 98" kits are available with our Extreme Duty ductile cylinders for an additional $299!
$899.00 FM107-0611 107" Fuel Moto Extreme ductile iron liner Cylinder/Piston kit fits 2007-2017 H-D Twin cam 96" & 103" engines (air & twin cooled). No case boring required.
$899.00 FM98-0611 98" Fuel Moto Extreme ductile iron liner Cylinder/Piston kit fits 1999-2006 H-D Twin cam 88" engines. No case boring required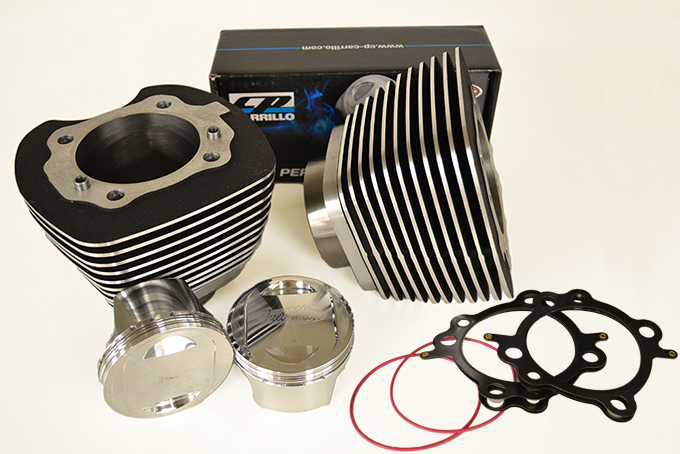 The Fuel Moto Exteme Duty Cylinder / Piston kit with heavy Ductile iron sleeve
---
The Fuel Moto Extreme Duty cylinders with hi-strength steel liners allow "Drop in" installation of 110" cylinders (4.000" bore diameter) without boring cases on 2007-2017 H-D Twin Cam engines with 4.375" stroke. Also included is CP/Carrillo complete piston kit with your choice of 10.50 - 11.0:1 compression (custom dome machining available), Cometic MLS .030" head gaskets, and OE H-D base o-rings. Complete custom 110" engine kits are available with piston/cylinder, cams, pushrods, lifters, gaskets, etc starting at $1699.00
$999.00 FM107-0612 110" Drop in Fuel Moto Extreme hi-tensile steel cylinder/piston kit fits 2007-2017 H-D Twin Cam 96" & 103" engines (air & twin cooled) No case boring required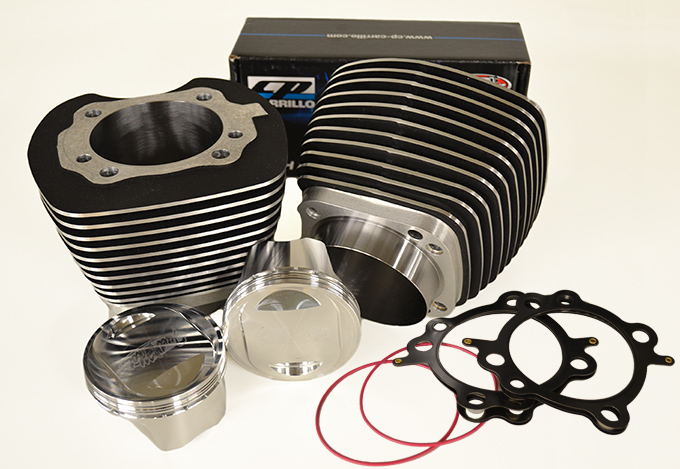 The Fuel Moto Exteme Duty Cylinder / Piston kit with hi-strength steel liner