Fuel Moto Extreme Duty Cylinders


The Fuel Moto Extreme Duty cylinders are designed for maximum durability and top level performance for Twin Cam engines. Kits are offered in 98", 107", 110 (drop on), and larger custom bore sizes. They are available with either a heavy duty centrifugally cast Ductile iron sleeve or hi-tensile strength steel liner (drop on kits). Cylinder & piston kits are CNC bored and honed to exact specifications and come ready to install. 100% made in the USA.
Get your Extreme Duty Cylinders Today!
---
The Fuel Moto Extreme Duty cylinders with heavy Ductile iron sleeve are available in a 3.937" bore (107" - 4.375" stroke or 98" - 4.000" stroke) and do not require boring. Also included is a CP/Carrillo complete piston kit with your choice of 10.25 - 11.0:1 compression (custom dome machining available), pistons are also offered for SE 110 & MVA heads in 10.5-11.25 compression. Includes Cometic MLS .030" head gaskets, and OE H-D base o-rings. All complete Fuel Moto 107" & Fuel Moto 98" kits are available with our Extreme Duty ductile cylinders for an additional $299!
$899.00 FM107-0611 107" Fuel Moto Extreme ductile iron liner Cylinder/Piston kit fits 2007-2017 H-D Twin cam 96" & 103" engines (air & twin cooled). No case boring required.
$899.00 FM107-0611-MVA 107" Fuel Moto Extreme ductile iron liner Cylinder/Piston kit fits 2007-2017 H-D Twin cam 96" & 103" engines with SE 110 or MVA cylinder heads (avail 10.5-11.25 comp) No case boring required
$899.00 FM98-0611 98" Fuel Moto Extreme ductile iron liner Cylinder/Piston kit fits 1999-2006 H-D Twin cam 88" engines. No case boring required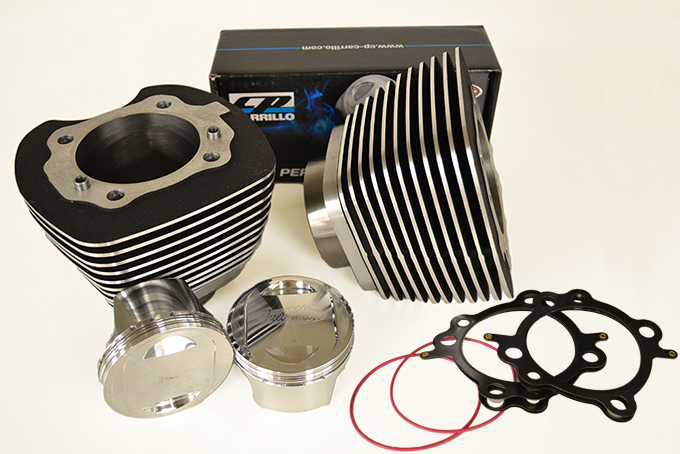 The Fuel Moto Exteme Duty Cylinder / Piston kit with heavy Ductile iron sleeve
---
The Fuel Moto Extreme Duty cylinders with hi-strength steel liners allow "Drop in" installation of 110" cylinders (4.000" bore diameter) without boring cases on 2007-2017 H-D Twin Cam engines with 4.375" stroke. Also included is CP/Carrillo complete piston kit with your choice of 10.50 - 11.0:1 compression (custom dome machining available), pistons are also offered for SE 110 & MVA heads in 10.5-11.25 compression. Includes Cometic MLS .030" head gaskets, and OE H-D base o-rings. Complete custom 110" engine kits are available with piston/cylinder, cams, pushrods, lifters, gaskets, etc starting at $1699.00
$999.00 FM110-0613 110" Drop in Fuel Moto Extreme hi-tensile steel cylinder/piston kit fits 2007-2017 H-D Twin Cam 96" & 103" engines (air & twin cooled) No case boring required
$999.00 FM110-0613-MVA 110" Drop in Fuel Moto Extreme hi-tensile liner Cylinder/Piston kit fits 2007-2017 H-D Twin cam 96" & 103" engines with SE 110 or MVA cylinder heads (avail 10.5-11.25 comp). No case boring required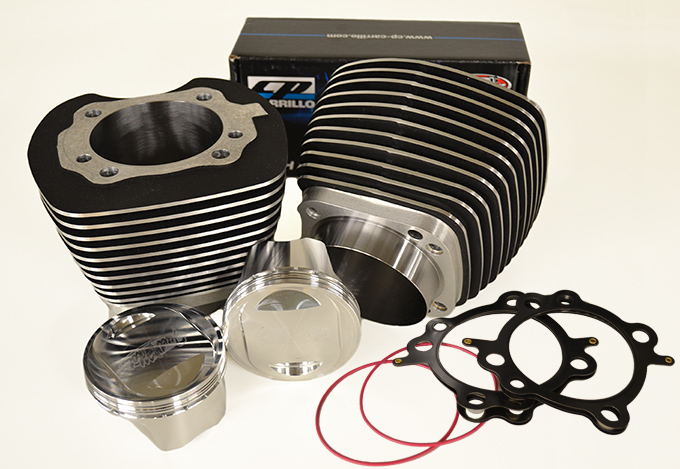 The Fuel Moto Exteme Duty Cylinder / Piston kit with hi-strength steel liner