98" Big Bore Kit



The Fuel Moto 98" Big Bore is a complete kit with the highest quality components all of which have been extensively tested in house both on the dyno as well as in real world conditions. This kit is available for 99-06 Twin cam 88" motors and delivers absolute top level performance.
---
The Fuel Moto 98" kit includes the following: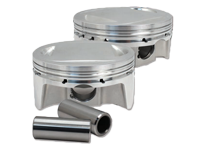 Custom Fuel Moto / CP Carillo Forged Pistons
These custom forged pistons from CP Carillo are customized for this big bore kit at 10.0:1 compression. The ring end gap is already set and are simply ready to be installed.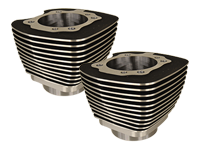 The standard 98" kit requires you to send us your OEM cylinders where they will be serviced and returned back to you with the big bore kit. If you were looking for a quicker turnaround we also offer a core exchange program for OEM cylinders. If you are looking for an upgraded cylinder we also offer the Fuel Moto Extreme Duty Cylinders for $299 with no need to send Fuel Moto your OEM cylinders. The cylinders are a core component for reliability for any big bore kit and we offer the very best with the Extreme Duty Cylinders. These cylinders are designed for maximum durability and top level performance which feature a centrifugally cast ductile iron sleeve and are 100% made in the USA.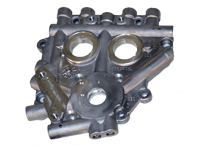 Wood Performance Roller Cam Chain Conversion Kit
At the heart of the 98" big bore kit is the Wood Performance RCC kit. This kit includes a hydraulic cam plate, oil pump, inner/outer cam chains, cam sprockets, tensioners and all necessary hardware to bring your cam chest to the 2007 & newer specification. The included cam plate accepts the unique Wood Performance conversion cams rather than OEM styled bolt in cams. The RCC kit is a robust platform to build the 98" kit to your needs while providing extended reliability.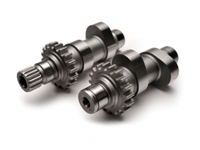 Wood Performance Knight Prowler Camshafts
The cams are the workhorse of any big bore kit which is why every single Fuel Moto big bore kit has a set Wood Performance Knight Prowler cams inside. We offer several choices to customize your big bore kit to your needs such as the Wood Performance TW-6-6R or TW-555-6R. Please note that for the 1999-2004 H-D models the use of the TW-555-6R cams will require updated valve springs or our Level B CNC cylinder heads. Give us a call at 920-423-3309 and a Fuel Moto technician will assist in finding the best cams to meet your needs.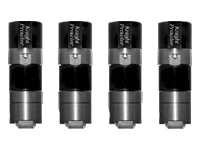 Wood Performance Alpha Series Directional Lifters
We all want more power with a big bore kit but would never want to sacrifice reliability. The Wood Performance Alpha Series Directional Lifters are a key component which addresses a common concern with the stock lifters which are simply not designed for the increased performance of a big bore kit. We are also a huge advocate of new parts on new parts so with brand new Wood Performance cams we also install the brand new lifters on each and every build we perform in house.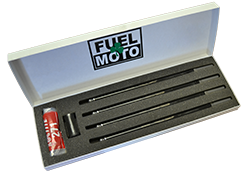 Fuel Moto Quick Install Adjustable Pushrods
The Fuel Moto quick install adjustable pushrods are the finest pushrods available. With a .095" chromoly tapered design which is engineered for maximum strength and durability these pushrods install right inside of the stock pushrod tube covers. Also included is our unique pushrod tube tool which holds the tubes in place for easy adjustment.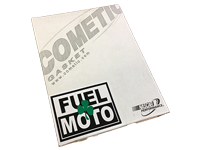 All Necessary Gaskets, O-Rings and Torrington Style Inner Cam Bearings
No one wants to be in the middle of a build and find that they are missing a gasket or o-ring to complete their build. With the Fuel Moto big bore kits all the necessary gaskets, o-rings and inner cam bearings are included. We have already performed in house stress tests to find the best performing parts to ensure your build is reliable for years to come.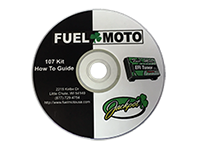 Complete Installation DVD
Most riders may not be rebuilding engines all that often but with a little guidance could install the Fuel Moto big bore kit. That is where this DVD comes in! We walk you through the entire build step by step, chapter by chapter. Still have a question, give a Fuel Moto technician a call at 920-423-3309.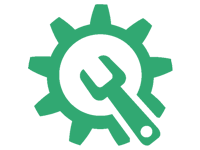 Unlimited Technical Support From Fuel Moto
You have done all of your research but maybe you still have a question. The technicians at Fuel Moto have the answers and would welcome your call. With every Fuel Moto big bore kit purchase we include unlimited technical support. Shoot us an email at info@fuelmotousa.com or give us a call at 920-423-3309 - we will work together to get you up and running.
Retail Price:
$1999.00 Complete kit
Professional Installation:
$2899.00 at our location including the complete kit, break in & dyno tune on our state of the art dyno. (*does not include EFI tuning device, exhaust system, throttle body, or other associated parts such as oil & filter)
Fuel Moto also offers package deals for the 98" kit bundled along with tuning components, exhaust systems, and air cleaners. We have a wide range of 98" calibrations available for Dynojet Power Vision, PC-V, and Thundermax we can supply with our kits.
---
Optional Accessories
---
Core Exchange
If you have purchased a Fuel Moto big bore kit and are sending back your cylinder cores for a core refund, returns are accepted within 30 days from the purchase date. If you are sending in your engine components to have service performed or if you have purchased a Fuel Moto big bore kit and are sending back your cylinder cores for a core refund please print, fill out, and include the following form with your return: Engine Component Returns Form.
---
Dyno Charts