Cylinder Head Porting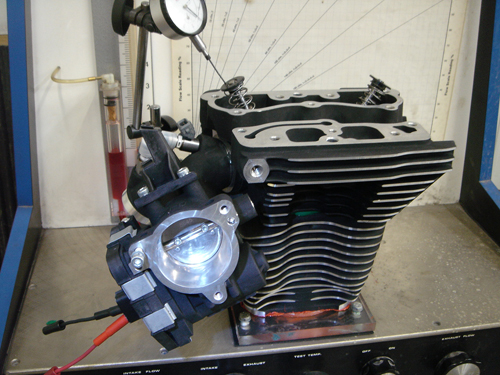 Fuel Moto offers comprehensive in-house cylinder head services for late model Harley Twin cam engines. With nearly 20 years of porting experience in a wide range of applications we can provide a cylinder head package for nearly any combination using our proven programs that have been developed on the flow bench, the dyno, and in real world testing for maximum performance and drive-ability. We use only the absolute finest parts and components from manufacturers such as Wood Performance, AV&V and all of our R&D is done in-house. Fuel Moto is equipped with a Superflow flow bench with data acquisition capabilities, a well equipped machine shop, and all design and development is tested and verified on our Dynojet 250i chassis dyno.
$879 - Order your Level B CNC heads now!
---
We have a good supply of heads ready to go for core exchange, customer supplied cylinder heads are generally turned around in 2 weeks. During the winter months this time frame may be extended and we ask that you please contact us for details.
Level B CNC Cylinder head $879.00
The Fuel Moto Level B CNC cylinder head is our premium street performance head. It was developed over hundreds of dyno runs with a wide range of combinations for best overall performance gains, it works especially well with 103" and 107" builds and makes exceptionally broad torque along with high RPM horsepower. Our new CNC ported head offers unmatched consistency and accuracy.
Fuel Moto Level B CNC includes the following:
Complete disassembly, inspection, and cleaning of cylinder heads
Extensive CNC porting, texturing, and blending with an emphasis on best all around performance
Oversize Stainless 1.900" Intake 1.610" Exhaust valves
Newen Contour-BB CNC valve job
Our beehive style valve springs are manufactured from ultra clean high silicon / vanadium Kobe alloy wire and are certified up to .600 lift
CC combustion chamber, set to desired spec
Machine/Install compression releases if required (+$100.00)
Exchange with core charge or 2 week turnaround on customer supplied heads
---
Dynocharts
Twin Cam 103ci
Twin Cam 107ci (Fuel Moto 107" Big Bore Kit)